Hello everyone, I'm back from holidays! After nearly a month away, I'm excited to get back in the swing of things. I've missed you guys and I've missed my work! I have a ton of catching up to do but wanted to let you know I made it back safely and share some quick highlights from my trip.
Here are the highlights of our adventure!
#1 Seeing the Canyons
I've always wanted to see the Grand Canyon. I believe I even mentioned it at the start of the year, and look, there I am!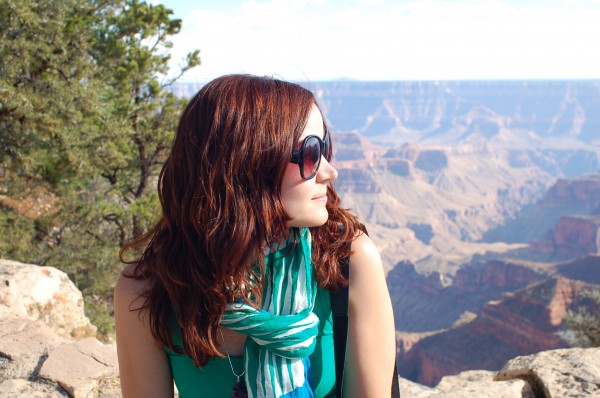 It's amazing, unbelievable and hard to describe in words just how beautiful it was there. It's so peaceful, and vast, and reminds me just how small I am in the grand scheme of things. It's been one of my lifelong dreams to see the Grand Canyon, but I didn't imagine just how impressive it was going to be in real life.
And while it was a marathon of a drive, I'm really glad we drove there. It seems like more of an accomplishment, more of an ultimate goal achieved to arrive at the gates of Grand Canyon National Park after days and days of driving.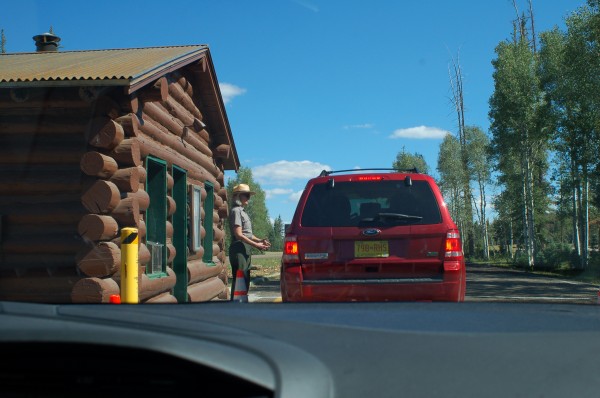 Also, did you know there are more canyons in the area, not just the grand one? We also spent a day in Zion Canyon which was equally gorgeous. (To explore Zion, you're exploring the bottom of the canyon looking up, the opposite of the Grand Canyon which you view from the top looking down!)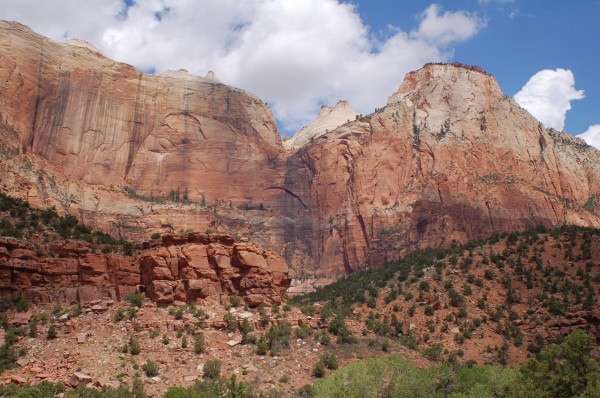 (Zion Canyon, from the bottom)
I took over a thousand photos during the trip, and on the canyon days I took well over 300 photos! It was hard to choose just a few for this post that would truly show off the beauty of the area.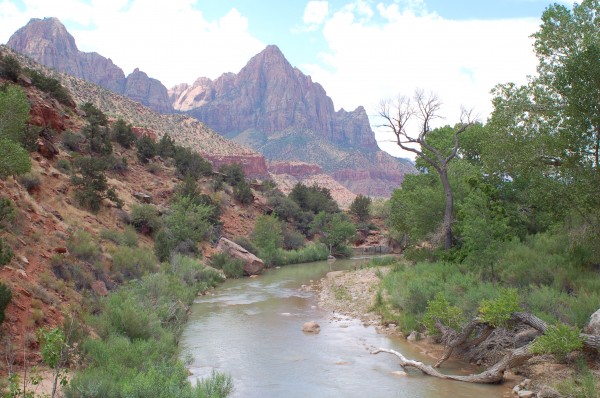 (Zion Canyon, Pa'rus Trail)
This photo below shows where we hiked – along those red rocks! Seems scary, and it was. Would you believe this was the easy-moderate hike? There are advanced trails with signs posted to literally say, people fell off this trail last year, so be careful.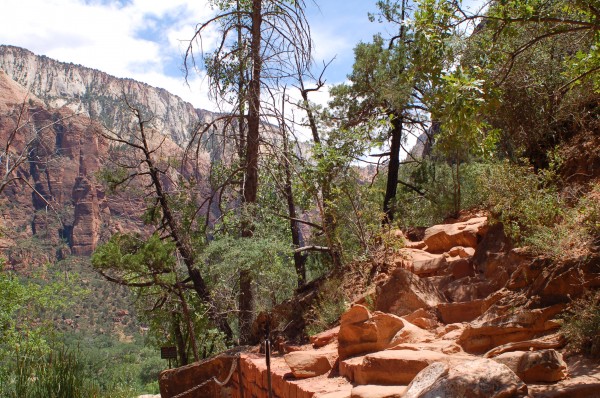 (Emerald Pools Trail, Zion Canyon)
#2 Meeting some very cool people
You know Sunni, from the blog and shop A Fashionable Stitch? I met her! We spent a few days in Salt Lake City on our way down to the canyons and luckily the timing worked for us to meet. She's just as fun and cheerful in real life as you would expect from reading her blog. I'm wishing I got a photo of us together, but we did tour a fabric store so here's a photo of that instead..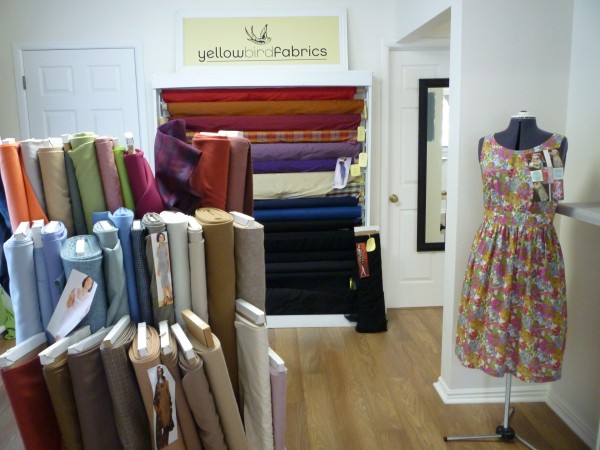 (Yellow Bird Fabrics, Salt Lake City)
This is Yellow Bird Fabrics in Salt Lake City, Utah. Sunni took me there and I met the owner, Amy, and admired the lovely apparel fabrics in this cute, friendly store. (And yes, it's in a building that used to be a house! That's something you don't see as often back home, house-buildings used as businesses.)
I also met the lovely and talented Sarai of Colette Patterns! We chatted about sewing over a cup of coffee,  and she's every bit as nice as you might think. I got to see the Colette studio and now am quite envious of her big bright workspace.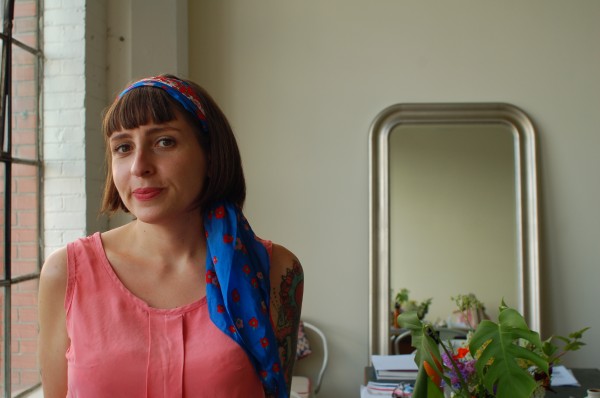 We also met some very cool people through the places we stayed. In Portland, the first place we stayed on the way down was so comfortable and inviting that we also stayed there on our drive back home! Thank you Sheryl and Rick for making our stay in Portland so much fun. Which leads into my next highlight…
#3 Portland
We spent a few days in Portland on the way down – what a cool city! Great food, plenty of fabric and yarn shops, and overall a relaxed and cool vibe. We hiked in the Gorge up to a big waterfall, shopped the farmer's market, toured Powell's Books, checked out vintage shops, and ate at a dozen yummy restaurants.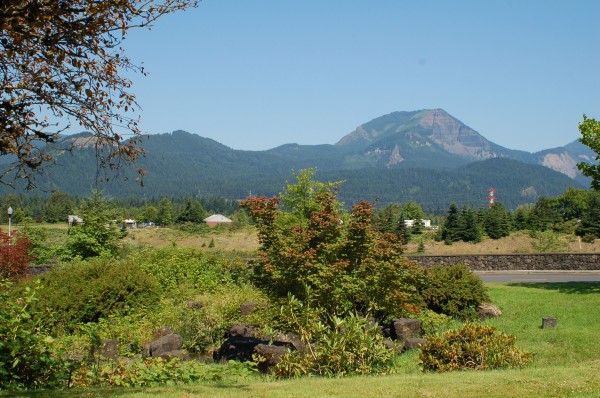 (the start of our hike about half an hour outside Portland)
There's so much more that happened, including getting caught in a thunder-and-lightning storm with rain so hard the windshield wipers couldn't keep up, seeing a wildfire at the side of the road, riding bicycles along the Greenbelt in Boise, Idaho. We watched the landscape change as the miles ticked by, spotting deer, bison, wild turkeys, lizards and even a California condor! We visited a dozen cool small towns all across Washington, Oregon, Idaho, Utah and Arizona. The weather ranged from absolute downpours of rain to well over a hundred degrees – that's about 40 degrees Celsius!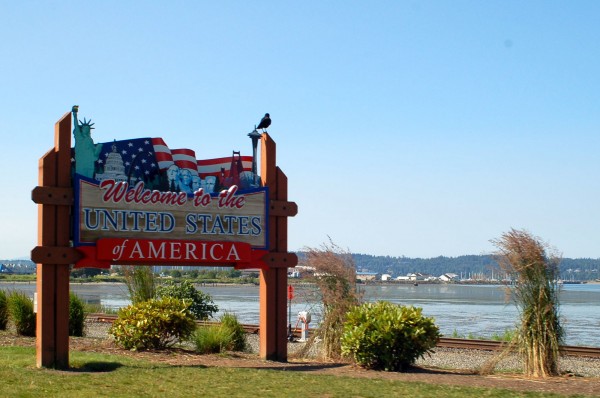 (a really good out-the-window photograph!)
Most of all, I had time to think and reflect, on my business, on life, and on what makes me happy. And I have to say, I'm fortunate to be spending my regular days doing something I love, with the coolest customers in the world! Not very many people miss their jobs while they're on vacation.
I won't bore you with too many trip photos but if you want to check out more, including a couple hundred out-the-window landscape photos, I'll post them in my Flickr pool sometime soon.
The best part of going on holiday is when you see your hometown with fresh, appreciative eyes and that's exactly how I feel. I loved our trip and now I'm happy to be home! And do I ever have some good stuff for you guys coming up.
Stay tuned for more, and thanks for your understanding while I was away!