Hey everyone! Remember the Garbage Fashion Show I mentioned last month? I found a photo of the winning entry and thought I'd share it here: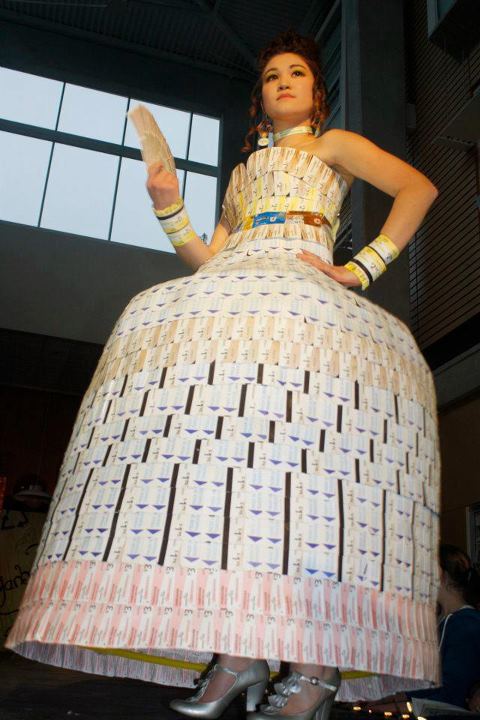 Isn't it amazing? Violet Patrich is the designer of this impressive dress, made up of three thousand used bus tickets. Every time you take transit in Vancouver you use up a paper ticket, unless you have a monthly pass. Crazy to think of how much paper waste that is, right? Enough to make a floor-length gown apparently! There are six used hula hoops in the skirt to give it structure. (Funny enough, I found this photo posted on the blog for Translink, our transit system. They must have liked her creative use of leftover bus tickets!)
I didn't get a chance to take photos or anything at the event. It went by so fast! There were thirty participants and they came down the runway quickly, one after the other, stopping onstage for what felt like thirty seconds before they were gone!
I wish I had more photos to share of the other participants. So many creative ideas to make clothing out of old materials. There was a pinstripe suit made from old McDonald's fry containers – you know, with the yellow stripes! I remember one dress with a fluffy toilet-paper skirt and pop-can bodice that from far away looked wearable – in a photograph you'd think it was a regular party dress. Everything from plastic grocery bags, candy wrappers, pop-can tops linked together to form chain mail to the tiny plastic wineglasses used for church communion. Impressive! I'm glad I was able to be part of the event.
More photos here. What do you think of the winning entry?