Hey, everyone! Remember the Garbage Fashion Show that I mentioned last week? It was great! It was so much fun to be a judge and see all of the innovative outfits made from recycled materials. The contestants walked the catwalk twice, so I was able to take some rather blurry shots on the second round! I didn't capture every entry – my phone takes bad action-shots and the show went fast – but I did get a few to share today!
These are pretty blurry photos but it will give you an idea of the creativity of each entry, and the variety of recycled materials used!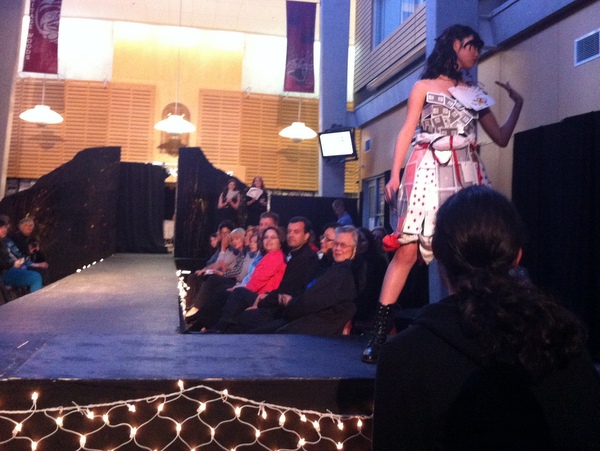 a dress made with playing cards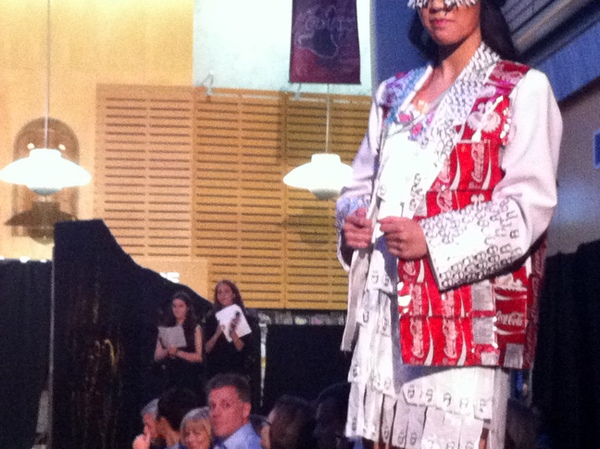 a suit made from recycled Coke cans – see the pop-tops detail on the cuff!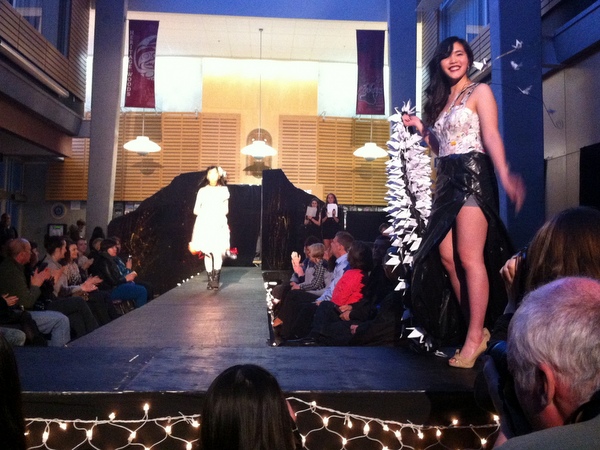 this dress was inspired by the legend of the Thousand Paper Cranes- the little cranes on wires behind her head bobbed as she walked!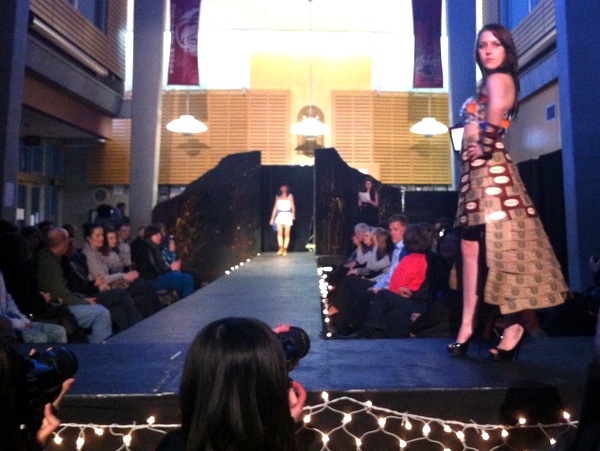 a dress made from used coffee sleeves, which are a rather wasteful product!
 We made up our own category 'Judges' Choice' so that we could give this one a special mention. I got to make an egg joke on stage and say 'egg-ceptional' or 'egg-citing' – can't remember now which egg-word I went with! (I think egg-ceptional and I emphasized the egg, so that the audience started cheering because they knew which entry it was.)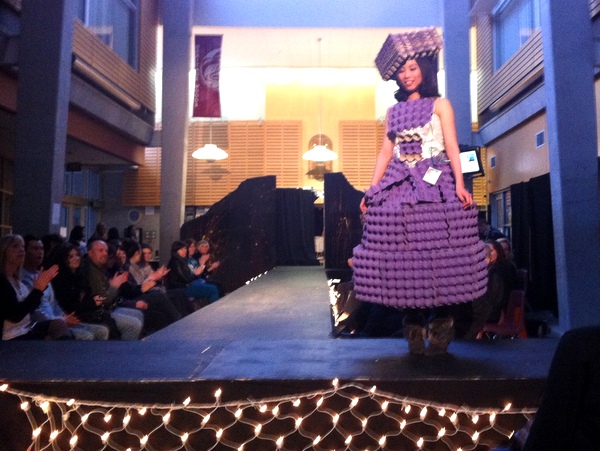 The dress is made of egg cartons discarded by a local restaurant, and the reason we were so impressed with this one is because there's no glue or tape used in the construction. (Because glue and tape isn't eco-friendly.) She's tied it together with old telephone cables from the telephone company. Talk about commitment to the concept!
This next one we named runner-up, because it was so striking on the runway! The colours, the innovation, the movement! It's hard to put into words and the photos certainly don't do it justice but this was a really beautiful piece. (If I can find better photos after this post goes up I'll share them too!)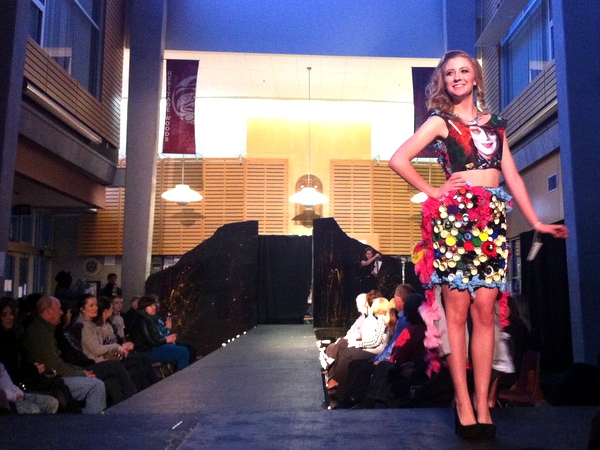 and a blurry shot of the back…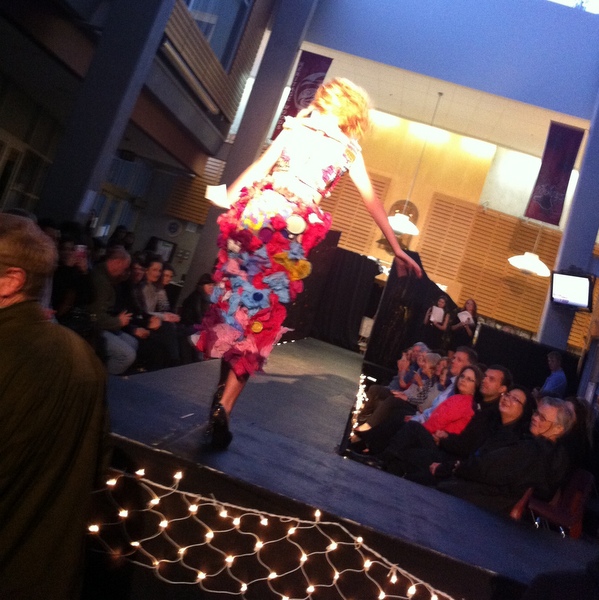 And the winner? This amazing creation by student Mack Stewart. It's a samurai suit, made from old filmstrip film of an old samurai movie. The judges and I loved the originality and stage presence  of his creation! Here's a crooked and blurry shot from the catwalk: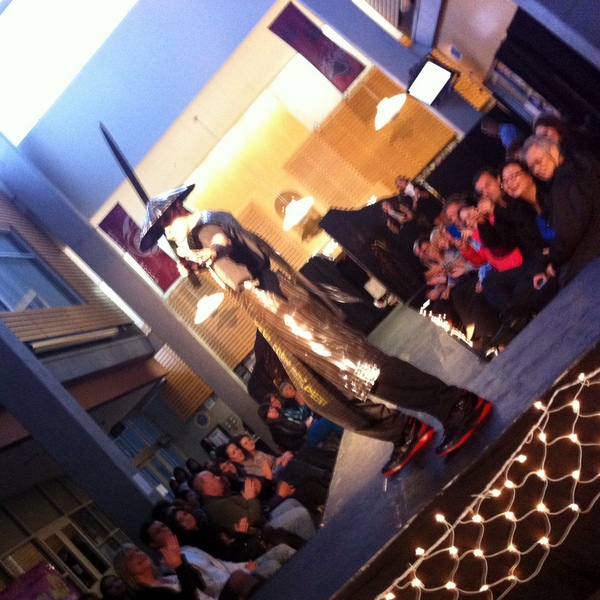 And here's a much clearer shot from the summary sheet we were provided as judges.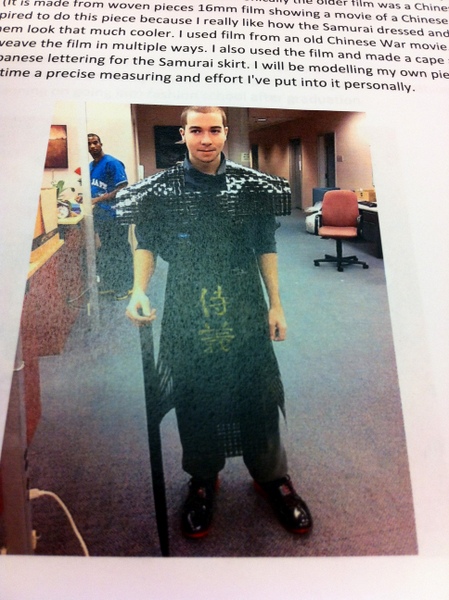 All of the proceeds from the show are donated to a local charity chosen by the students. This year they chose a charity that helps the homeless in Vancouver's Downtown Eastside. (I wish I'd noted down the name! The representative from the charity gave a talk about how they involve students in helping feed the homeless, and work with youth to help them stay off the streets, so it's a relevant group for a high school to support.)
Amazing, right? I'm honoured to be a part of this event for a second year. Whoever says that young people aren't motivated needs to check out events like this. These students are smart, talented and committed to creating a better world through green initiatives. If this is the future, we're in good hands.
Thanks to the Coquitlam School District and Heritage Woods Secondary for inviting me to judge this year's show, and congratulations to all of the participants on a job well done!