Wow! What a fantastic year it's been. So many exciting things happened in 2010! I wanted to take a moment and reflect on the past year, to celebrate the highlights and see what I've learned.
At the beginning of this year I started my blog. Hard to believe I've been doing this for less than a year! I'm so glad I did. I was desperate for a creative outlet, and needed a place to share my love of sewing and express myself without rules or limitations. My first month only attracted forty visitors! Now I have a thousand people a day stopping by. I never dreamed that so many people would read about my sewing adventures. Thanks for all the encouragement and for leaving thoughtful, sincere comments over the past year!
I travelled to Hawaii earlier in the year, and to Boston and Washington DC in the summer. That's me in the photo below, fabric-shopping in Hawaii. I'm rather embarassed to admit that the four pieces of fabric I bought are still uncut! I have to get over the fact that I bought them on vacation and stop being afraid to cut them up! Hawaii was so beautiful, I'd love to visit again.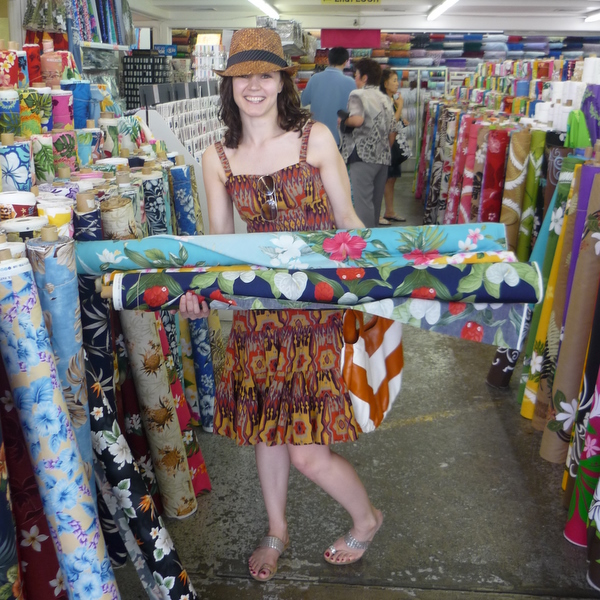 Sadly, we lost all of our photos from the Boston-Washington trip, but had a wonderful time anyways! (And I have fabric from the trip as well.)
I discovered the wonderful world of Etsy and all of its handmade goodness. I found out you can buy vintage sewing patterns and vintage fabric! I love the uniqueness and history of buying vintage, imagining the previous owner's plans for patterns and fabric.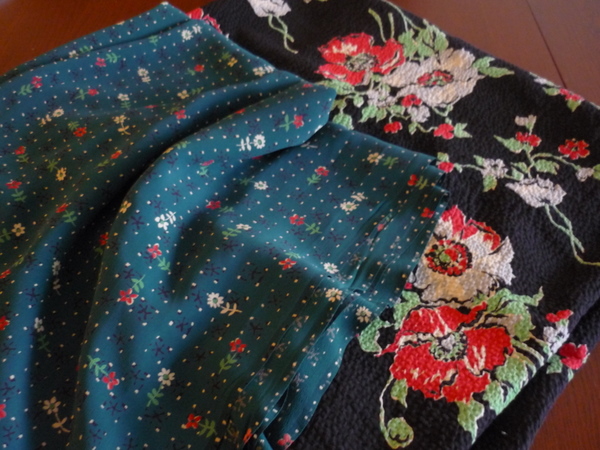 I discovered Colette Patterns, Burdastyle and PatternReview. It's awesome to see new and exciting things happening in the sewing world! People who don't sew often think of sewing as a lost art or a dying tradition, something our mothers and grandmothers did but no one bothers with anymore. So not true!
The coolest and most exciting part of the year was finding all of you guys! It's unbelievable that there are so many cool, inspirational, stylish and unique people who sew – and because of blogging I've found you all! Or perhaps you've found me. Pretty wonderful to find other sewing fans, isn't it? Maybe you're the only one of your friends who sews, and online sewing buddies are the only ones who completely 'get' your obsession with sewing and crafting. Either way, it's great to find people equally pumped to share our latest fabric purchases and rare vintage pattern finds.
I participated in Me-Made-May and Self-Stitched-September, challenges led by the lovely Zoe, and wore something I made every day for two complete months. Sounds easy, doesn't it? Both months were an interesting exercise in self-examination and wardrobe evaluation. I learned to be proud of my creations, instead of pointing out the flaws. I suppose that goes for body 'flaws' as well as sewing mistakes! Focus on the good, instead of dwelling on the not-so-great.
(Click the image below to visit the Self Stitched September summary post.)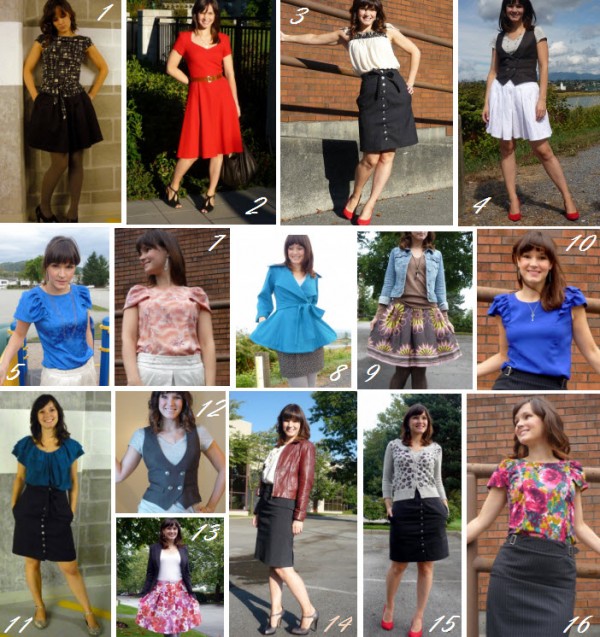 Staring at photos of yourself every day is hard work. If the photos were of anyone else, now that would be a different story! But it's hard to look at yourself objectively, to see the clothes and not focus on the body parts. You have to take that imaginary step back and examine the photo for the purpose of showcasing handmade creations. Easier said than done! It's a real challenge to crop and straighten photos without criticizing yourself and your body.
Speaking of handmade wardrobes, I bet you're curious exactly how many things I made this year! I know I was curious to do the math. Let's count them, shall we? (Click any of the links below to visit the original post.)
February (1):
March (1)
April (3)
May (3)
June (3)
July (5)
August (1)
September (3)
October (1)
November (4)
December (3)
The Grand Total: 28 items
What's funny is I thought I'd made more than that this year. I added up the total and thought – that's it? Although, I suppose up until November I was working full-time, commuting an hour to work each way, and keeping up with family and friends. October looks so unproductive but I was madly working on the Pendrell Blouse pattern. So averaging three items a month is pretty good! Do you have wildly high expectations of your sewing output like I seem to?
(Don't worry if this list seems like I'm showing off. I had UFOs and absolute fails in there too! Like the Beach Hat.)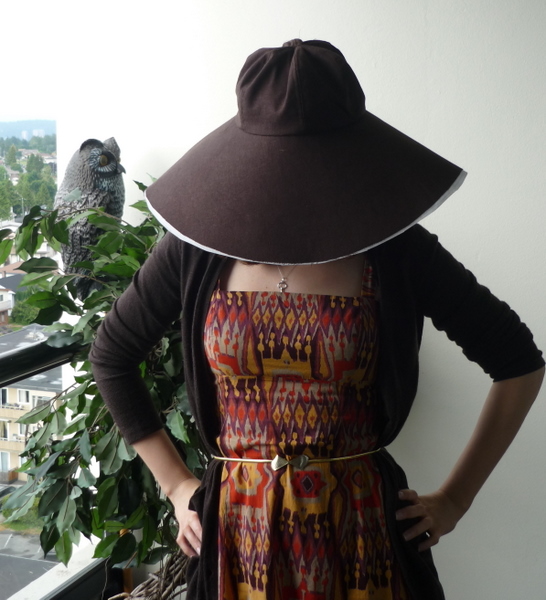 The picture says it all – a total flop! (Click the image for more on the Summer Beach Hat..)
I went from blogging three times a week to blogging nearly every day. Even when I was only writing three times a week, there was always so much to say! I never felt like I could run out of things to say about sewing. And I still think it's true! I plan to keep on blogging nearly every day in 2011, and doubt I'll ever be at a loss for words. Especially as we start the first Sew-Along, something I'd like to do more often if you guys are interested!
I created a Sewtionary as an easy reference for all my tutorial and tip posts to help readers answer their sewing questions. I'll keep building it, it's a great reference even for me to find my own tutorial posts!
And at the end of this year, I was laid off and officially launched my pattern business, which is the best thing that's happened this year! Again I want to say thank you to everyone who bought a pattern this year. I appreciate the support from the online sewing community so much!
Thank you to my first wholesale customers, Spool of Thread and Grey's Fabrics, for supporting a brand-new pattern designer. (If you're nearby to either one, stop in and visit!)

It's been a fantastic year, and I bet next year will be just as great. I'm not one to panic about getting older or reaching my next birthday. Since my mid-twenties, things have turned out better year after year. I'm not a birthday hater! I embrace each time I turn another year smarter, and more experienced in the ways of the world.
So on that note, here's to 2011! I'm going to follow with a post on my plans, hopes and dreams for the coming year. It's going to be an exciting year, I know it!
Hope you have a fantastic New Year's Eve celebration and see you next year!